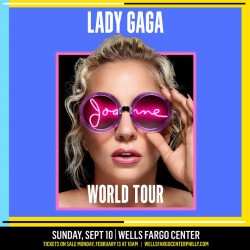 Lady Gaga has announced her upcoming Joanne tour that will include a stop at the Wells Fargo Center in Philadelphia on September 10th AND SEPTEMBER 11TH
Gaga has toured six times before and has previously told fans they can expect more extravagant shows the next time she takes to the road.
She said back in October 2016: "What I would say to those who are terrified that I'll never again embrace absurdity or the avant-garde is 'think again' because that is my favorite thing."
Tickets officially go on sale for the second show on Monday, Febraury 17th at 10AM on Wellsfargocenterphilly.com!
Enter below for a chance to win FREE TICKETS from 99.3 The Buzz!