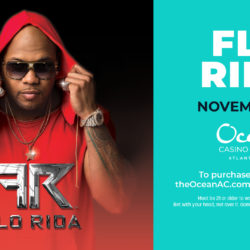 Flo Rida coming to the Ocean Casino Resort on 11/26!
Tramar Lacel Dillard (born September 16, 1979), better known by his stage name Flo Rida (/floʊ ˈraɪdə/, floh RY-də), is an American rapper and singer. His 2007 breakout single "Low" was number one for 10 weeks in the United States and broke the record for digital download sales at the time of its release.
Flo Rida's debut studio album, 2008's Mail on Sunday, reached number four in the US. The album was succeeded by R.O.O.T.S., the next year. His subsequent albums, 2010's Only One Flo (Part 1) and 2012's Wild Ones, also charted on the US Billboard 200 chart. Flo Rida has sold over 80 million records worldwide, making him one of the best-selling music artists. His catalog includes the international hit singles "Right Round", "Club Can't Handle Me", "Good Feeling", "Wild Ones", "Whistle", "I Cry", "G.D.F.R." and "My House".
Не represented San Marino, together with Senhit, at the Eurovision Song Contest 2021 in Rotterdam with the song "Adrenalina". They scored 50 points, finishing 22nd overall in the final.
To purchase tickets visit theoceanac.com or the box office.
Enter below for a chance to win!