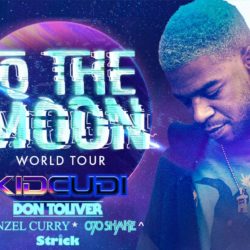 Kid Cudi is coming to The Wells Fargo Center on 9/9!
Scott Ramon Seguro Mescudi (born January 30, 1984), known professionally as Kid Cudi (/ˈkʌdi/ KUDD-ee; often stylized as KiD CuDi), is an American rapper, singer, songwriter, record producer, and actor. He has widely been recognized as an influence on several contemporary hip hop and alternative acts. His lyrics are often autobiographical and describe his childhood hardships of depression, loneliness and alienation, his struggle with alcohol and drugs into adulthood, as well as themes of spirituality, heartbreak, dissipation and celebration. Cudi began to gain major recognition following the release of his first official full-length project, a mixtape titled A Kid Named Cudi (2008), which would go on to catch the attention of high-profile music producer Kanye West, who subsequently signed Cudi to his GOOD Music label imprint by late 2008.
In early 2008, Cudi had risen to prominence with his debut single "Day 'n' Nite", having initially been self-published on his MySpace page to becoming a worldwide hit. The song was later featured on Cudi's seminal debut album, Man on the Moon: The End of Day (2009), which was eventually certified double platinum by the Recording Industry Association of America (RIAA) in 2017. The album also included the singles "Make Her Say" and "Pursuit of Happiness", both of which achieved significant chart success. In 2010, Cudi released his second album Man on the Moon II: The Legend of Mr. Rager, which also attained platinum status and features the singles "Erase Me" and "Mr. Rager". Later that year he formed WZRD, a rock band, with his long-time collaborator Dot da Genius. Their eponymous debut album (2012) debuted at number one on the Billboard Top Rock Albums chart.
Cudi has since released the solo albums Indicud (2013), Satellite Flight: The Journey to Mother Moon (2014), Speedin' Bullet 2 Heaven (2015), and Passion, Pain & Demon Slayin' (2016). Cudi's joint album with Kanye West, under the eponymous name Kids See Ghosts (2018), was met with widespread critical acclaim and was named among the best albums of 2018. In 2020, Cudi earned his first number-one song on the US Billboard Hot 100 chart with "The Scotts", a collaboration with Houston rapper Travis Scott. Man on the Moon III: The Chosen, issued in 2020, became his most commercially successful album to date, with the RIAA certifying it gold status later that year.
Cudi has sold 22 million certified records in the United States and has won two Grammy Awards from five nominations. He has worked with numerous prominent artists spanning several different genres in the music industry, such as Jay-Z, Eminem, Kendrick Lamar, David Guetta, Steve Aoki, MGMT, Mary J. Blige, Shakira, Ariana Grande and Michael Bolton, among others. After signing to GOOD Music, Cudi has since gone on to launch his own vanity labels, the now-dissolved Dream On and current label imprint Wicked Awesome Records. Cudi also ventured into acting when he was cast in the HBO series How to Make It in America. He has since appeared in several feature films, including Goodbye World (2013), Need for Speed (2014), Entourage (2015), Bill & Ted Face the Music (2020), Don't Look Up (2021) and more. In addition, he has made appearances on television shows such as One Tree Hill, The Cleveland Show, Brooklyn Nine-Nine, and Westworld. In 2015, he was the bandleader on the IFC series Comedy Bang! Bang! and in 2020 was added as a cast member for the HBO mini-series We Are Who We Are.
Enter below for a chance to win FREE tickets!