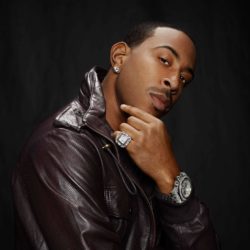 Ludacris is coming to The Showroom at Tropicana, Atlantic City on 11/11!
Christopher Brian Bridges (born September 11, 1977), known professionally as Ludacris (/ˈluːdəkrɪs/, homophonous with 'ludicrous' in American English), is an American rapper, actor, and record executive.
Born in Champaign, Illinois, Ludacris moved to Atlanta, Georgia, at age nine where he first began rapping. He formed his own record label, Disturbing tha Peace in the late 1990s, then signed with Def Jam South, after he went on to become one of the first Dirty South rappers to achieve mainstream success with countless album releases. For his music, Ludacris has won three Grammy Awards and an MTV Video Music Award. Starting out with a brief stint as a DJ, he independently released his first album Incognegro in 1999 to local success, but achieved national attention the following year when the album was repackaged and re-released as his major label debut, Back for the First Time. It contained the hit singles "Southern Hospitality" (featuring Pharrell), which wasn't on Incognegro, and "What's Your Fantasy" (featuring Shawnna). In 2001, he released Word of Mouf, followed by Chicken-n-Beer in 2003 and The Red Light District in 2004, all of which were certified multi-platinum by the Recording Industry Association of America (RIAA). He took a more serious approach with his next two albums, Release Therapy (2006), and Theater of the Mind (2008). His next album, Battle of the Sexes, was released in 2010 and featured a return to the more lighthearted tone of his previous albums. His most recent album, Ludaversal, was released on March 31, 2015.
As an actor, Ludacris is best known for his role as Tej Parker in the Fast and Furious film series, with his first appearance in the franchise coming in 2003. His other notable roles include Crash (2004), Gamer (2009), and New Year's Eve (2011). For his performance in the ensemble of Crash, Ludacris was co-awarded a Screen Actors Guild Award and a Critic's Choice Award for Best Cast. In 2021, Bridges created his own children's musical television series for Netflix known as Karma's World, in which he also served as a voice actor.
Enter below for a chance to win free tickets!