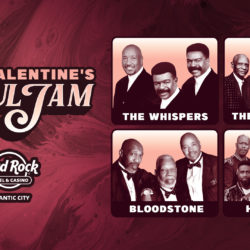 Valentine's Soul Jam coming to Hard Rock Hotel and Casino on 2/19/23!
Valentine's Soul Jam featuring The Whispers, The Stylistics, Bloodstone and Heatwave !
The Whispers is an American group from Los Angeles, California, who have scored hit records since the late 1960s. They are best known for their two number one R&B singles, "And the Beat Goes On" in 1980 and "Rock Steady" in 1987. The Whispers scored 15 top-ten R&B singles, and 8 top-ten R&B albums with two of them, The Whispers and Love Is Where You Find It, reaching the No. 1 spot. They have earned two platinum and five gold albums by the RIAA.
The Stylistics are an American, Philadelphia soul group that achieved their greatest chart success in the 1970s. They formed in 1968, with a lineup of singers Russell Thompkins Jr., Herb Murrell, Airrion Love, James Smith and James Dunn.
Bloodstone is an American R&B, soul, and funk group, most popular in the 1970s and early 1980s. The band charted thirteen songs between 1973 and 1984.
Heatwave is a Dayton, Ohio based funk/disco band formed in 1975. Its most popular line-up featured Americans Johnnie Wilder Jr. and Keith Wilder (vocals) of Dayton, Ohio; Englishmen Rod Temperton (keyboards) and Roy Carter (guitar); Swiss Mario Mantese (bass); Czechoslovak Ernest "Bilbo" Berger (drums); and Jamaican Eric Johns (guitar). They are known for their singles "Boogie Nights", "The Groove Line", and "Always and Forever".
Tickets are available HERE!
Enter below for a chance to win FREE tickets!