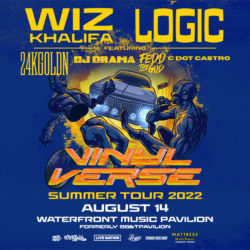 Wiz Khalifa and Logic are coming to Waterfront Music Pavilion on 8/4!
Enter below for your chance to win a free pair of tickets!
Wiz Khalifa is an American rapper, singer, and songwriter. He released his debut album, Show and Prove, in 2006, and signed to Warner Bros. Records in 2007. His Eurodance-influenced single "Say Yeah" received urban radio airplay, charting on the Rhythmic Top 40 and Hot Rap Tracks charts in 2008, becoming his first minor hit. Thomaz parted with Warner Bros. and released his second album, Deal or No Deal, in November 2009. He released the mixtape Kush and Orange Juice as a free download in April 2010; he then signed with Atlantic Records. Thomaz then adopted a more radio-friendly, pop-oriented approach with his debut single for Atlantic, "Black and Yellow". The song, a tribute to his hometown of Pittsburgh, debuted at number 100 and eventually peaked at number 1 on the Billboard Hot 100. The song became the lead single for his third album Rolling Papers, which was released in March 2011, and also had the Top 40 singles "Roll Up" and "No Sleep". The album's success was followed up with O.N.I.F.C. in December 2012, which was backed by the singles "Work Hard, Play Hard" and "Remember You" (featuring the Weeknd). Wiz released his fifth album Blacc Hollywood in August 2014, backed by the lead single "We Dem Boyz". In March 2015, he released "See You Again" (featuring Charlie Puth) for the soundtrack of the film Furious 7 and the song peaked at number one on the Billboard Hot 100 for 12 non-consecutive weeks.
Logic is an American rapper and record producer. He has released six studio albums and received two Grammy Award nominations. Logic began his music career in 2010, releasing the mixtape Young, Broke & Infamous; he gained popularity with his Young Sinatra mixtape series, with the response to its third iteration, Young Sinatra: Welcome to Forever (2013), helping Logic secure a recording contract with Def Jam Recordings. Logic's first two studio albums — Under Pressure (2014) and The Incredible True Story (2015) — both peaked within the top five on the U.S. Billboard 200, while the former was ultimately certified platinum. Logic achieved mainstream popularity in 2017 with Everybody; the album charted at number one in the United States and was certified platinum, while its lead single, "1-800-273-8255", reached number three on the U.S. Billboard Hot 100, and was a top-ten hit internationally. He also released the commercial mixtape series Bobby Tarantino. His fourth and fifth albums, YSIV (2018) and Confessions of a Dangerous Mind (2019), achieved similar commercial success, with the latter containing the single "Homicide", which peaked at number 5 on the Hot 100. After his sixth album No Pressure (2020), Logic retired from music; he returned to music in 2021. As an author, Logic released the novel Supermarket (2019), which was accompanied by a soundtrack of the same name. Logic is also a streamer and is signed exclusively with Twitch, the first musician to do so.
Tickets on sale at ticketmaster.com!